It's time for part two of the ESPN ranking review, from round six until the end. Rounds 1-5 can be found here. So far I've once again found myself agreeing with this initial set of ESPN rankings compared to the Yahoo ones, which lines up historically. Still, that doesn't mean there aren't a few questionable (to me, at least) rankings out there, so let's get to it.
Latest ESPN Rankings (as of June 30th). PPR. Assuming a 12 team league.
Data taken from FantasyPros.com, PPR.
Round Six Rankings
Brandon Aiyuk, 66th overall. Verdict: Too High
Just like in Yahoo's rankings, Aiyuk is being valued way too high here. It's slightly better, with Aiyuk being drafted as a flex rather than a WR 2 like in Yahoo, but I must be missing something here because this ranking for Aiyuk seems absurd to me. Aiyuk benefitted massively from injuries that you can't bank on happening again. Deebo Samuel and George Kittle will be back, passing attempts are probably going to fall, and as good as Aiyuk was in those six weeks, again it was just six weeks.
Even with just Kittle you saw Aiyuk's production tank. In the six games he played with Kittle last season, Aiyuk accrued 33 targets, 22 catches, 295 yards and two touchdowns through the air. He also chipped in two rushes for 54 yards and one score. That's not even fifty receiving yards per game. That number of targets is really too low to justify taking Aiyuk in the sixth where you are still drafting starters, and that's with Samuel and Raheem Mostert coming back healthy. With everyone healthy, what's Aiyuk's ceiling? Is it higher than guys around him like Will Fuller or DJ Chark? No, it's not. What about his floor then? Considering his floor is the third most targeted player on a run first team, his floor is unplayable. Pass on this one.
Round Seven Rankings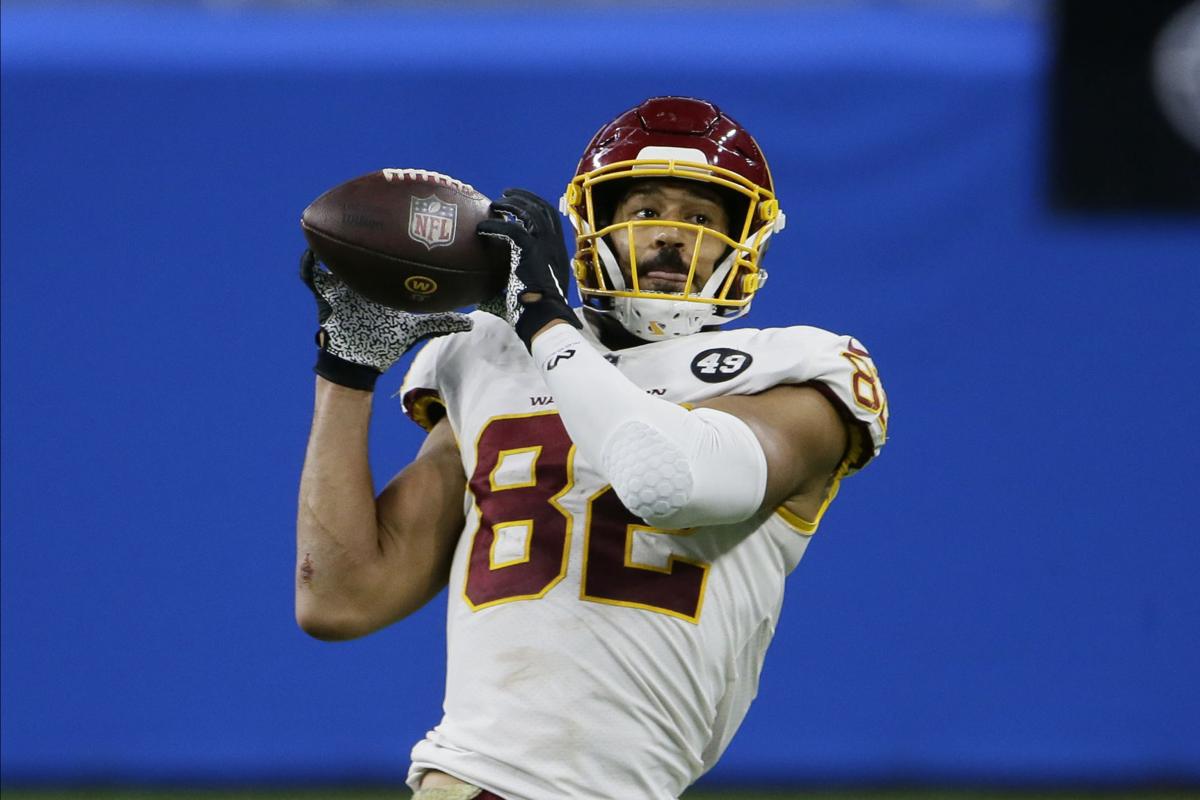 Logan Thomas, 81st overall. Verdict: Too High
I don't mind Thomas as TE 7, like he's ranked here, but outside of the few best tight ends there's not really a great reason to take someone like Logan Thomas in this high of a round. He did finish TE 5 last year, but the difference between TE 5 and TE 12 is pretty small. In total it was about 23 points, and by average points per game, the difference between Thomas and the 12th TE was .9 points. Not even a full point per week. Is that really worth taking in the seventh round?
Not to mention that Thomas is going to have a nebulous QB situation this year, and even if it's the more aggressive Ryan Fitzpatrick, Fitz isn't a guy that guarantees tight end production. In general Fitz locks on to a receiver and forces him the ball at the cost of most of the other guys around him. There have been a couple okay tight end season with Fitzpatrick at the helm, but really they maxed out around 500-600 yards and 5-6 scores. That's not bad, and it's probably on the low end of playable, but not worth a seventh round pick.
Noah Fant (TE 12 last year) and Robert Tonyan (TE 4) are both available in the 100's, and that's probably where Thomas should be as well. Why do I not feel the same about Dallas Goedert who is ranked right besides Thomas you ask? Well, I think Goedert is the better player (if you take away the one game where Goedert got hurt early and only played six total snaps, he outdid Thomas in PPG) and the Philadelphia Eagles (and Indianapolis Colts, where new head coach Nick Sirianni comes from) value the tight end position a lot.
Round Eight Rankings
Michael Gallup, overall 85th. Verdict: Too High
WR 42 isn't that bad for Gallup to be honest. He finished WR 36 last year after all. My only problem with Gallup is he's too boom or bust for a weekly fantasy player. In best ball I could see him having some value down here, but as the distant WR 3 on the Dallas Cowboys you're never going to feel comfortable starting him. You may get lucky one of two times in the season, but as many 20 point efforts he has he'll also give you two points, and you won't know which games are which barring injury.
With the five games of Dak Prescott as quarterback, Gallup averaged 5.6 targets and 3.4 receptions. That's not enough to reliably start. Starting Gallup means you're rolling the dice really hard, and there are guys around here with either higher floors you can feel better about starting week-to-week, or much higher ceilings if they work out.
Russell Wilson and Tom Brady, overall 89 and 90th. Verdict: Too Low
The quarterbacks are again undervalued in ESPN rankings here. Wilson finished as a top five QB last year, mostly due to a ripping hot start that made him the runaway MVP favorite for the first eight weeks. Weeks 9-17 weren't very good at all, but getting a guy that has QB 1 potential this late is a possible gamechanger.
Tom Brady was the opposite. Slightly cherry picked here, because Brady had such an awful week nine, but from week 10-17 Brady was QB 4, and he also played well in the playoffs. It's clear Brady hasn't lost a step yet, and now that he's mastered the hard-to-get-used-to playbook of Bruce Arians, top five QB is easily on the cards for him.
Both of these guys also returned most if not all of their main offensive weapons, and that continuity is very helpful. These guys both have fairly high floors and really high ceilings, so getting them this late would be quite a steal.
Round Nine Rankings
None. There's an argument for someone like Javonte Williams, who I think many expect to eventually get the starting job in Denver. At the same time, they just paid Melvin Gordon, who wasn't terrible last year. A full on timeshare all year is the likely situation, and round nine is about right for that type of risk and reward. Mike Williams seems a little high given how he performed last year. At the same time if he can absorb even half of what Hunter Henry got he's viable. Finally, the tight end group of Robert Tonyan, Noah Fant and Mike Gesicki are all solid players, and at least one will outperform their ranking, but I'm not sure which.
Round 10-15
T.Y. Hilton, overall 116. Verdict: Too High
Assuming Carson Wentz is in fact fixable, one of the Indianapolis Colts wide receivers is going to be fantasy relevant. Of the three main guys, T.Y Hilton, Parris Campbell and Michael Pittman Jr. I think Hilton is the least likely to be the guy. He looked cooked for most of 2020, and is only getting older. Hilton possesses the the lowest ceiling and floor, so I don't think he should be the highest ranked Indy receiver. Parris Campbell has serious potential but is injury-prone, while Pittman seems like the safe option. Overall, Hilton is too high and Pittman is too low, so if you swap their rankings I think it looks much better.
Matthew Stafford, overall 128. Verdict: Too Low
Stafford has been a top fantasy QB before, and this will be by far the best overall team he's ever been on. The Los Angeles Rams have two really good wide receivers, a solid run game and one of the best offensive lines in football right now. Stafford hasn't shown signs of massive decline yet. 2020 wasn't great, but that team was bad, and his 2019 pre-injury was shaping up to be one of his best seasons. Finishing as a top-12 QB with this supporting cast should be easily doable for him.
Trey Sermon, overall 137. Verdict: Too Low
Sermon's final three games with Ohio State were as good as anyone's in college football, showing he's got the talent to succeed in the NFL. He goes into a great situation, with the 49ers being a heavy run team and the guy that is nominally ahead of him is injury-prone. There's also no guarantee Sermon doesn't win the job outright over Mostert anyways. Playing time is all but guaranteed for Sermon, and "49er running back" is a very good position. Mostert, Jeff Wilson Jr, Jerrick McKinnon and even Kyle Juszczyk all had very good fantasy weeks. If Sermon becomes the outright starter he's a league winner, and you're likely to get some use out of him even if he doesn't. That's more than worth a flier this late.
Tevin Coleman, overall 148. Verdict: Too Low
Starting running back is the most scarce position in fantasy, and right now at least Tevin Coleman is the listed starter according to ESPN. I don't buy into that chart that much, but the job is pretty clearly up for grabs, and Coleman has the best NFL resume of the Jets group. Starting running back on the Jets didn't mean much last year, but it's still a starting running back. Getting one of those in the 140's is a really nice deal.
Phillip Lindsay, overall 149. Verdict: Too Low
Unlike the other running backs around him (and Tevin Coleman) Lindsay has a path to playing time besides an injury. He could beat out David Johnson for the starting spot, as Johnson is on the tailend of his career, while Lindsay is just beginning. Lindsay has had two 1000 yard rushing seasons, which is pretty much two more than any of the guys around him can say.
Jamison Crowder, overall 152. Verdict: Too Low
Crowder was WR 25 in points per game last year, and someone on the New York Jets has to catch the ball. If Zach Wilson is any upgrade over Sam Darnold (low bar to clear) then Crowder could be in line for a solid season. Of course, it's not a guarantee or anything and the Jets have a lot of young or new WRs (Corey Davis, Denzel Mims, Elijah Moore) that could also take the lead role, but Crowder produced literally last year. WR 25 is a pretty high ceiling for a guy you're getting in the 150's, and it's much higher than a lot of the guys around him.
Zach Ertz, overall 211. Verdict: Too Low
This is extremely low for a guy that was TE 4 and in the conversation with guys like Darren Waller and George Kittle in 2019. A contract dispute and injury meant we really didn't get to see Ertz play last year, so we don't know if he's truly declined in football ability. He won't do much on the Eagles probably, although Sirianni and the Eagles run a lot of two TE sets. On the other hand, if he gets released or traded Ertz has a fantastic chance to be a top five TE again. Listing him as completely undrafted with that type of ceiling is a bit foolish, and even if he plays on the Eagles all year he'll still be better than TE 22 barring health.
Honorable Mentions
Nelson Agholor at 133, Hunter Henry at 144 and Jonnu Smith at 119 could all be pretty massive undervaluation's. Someone on this New England team is going to catch the ball, especially if Mac Jones does get to play eventually.
On a similar note, Damien Harris is theoretically a starting running back on a team that will probably want to keep it on the ground, and getting a starting running back at pick 110 isn't terrible.
Daniel Jones and Carson Wentz have new weapons and could be in line for big seasons, especially Jones who has decent value with his legs. I'd consider drafting Jones as a second QB, or possibly a streaming option.
As long as Cam Newton retains his starting job, his running makes it so that his value is actually pretty high. Through the first few weeks Newton was actually playable, and his team has only gotten better.
Not a fan of Lamar Jackson as QB 5 ahead of guys like Russell Wilson, Aaron Rodgers and Tom Brady. Lamar was QB 10 last year (QB 8 PPG though) but I really think 2020 is closer to the real Lamar than his MVP campaign, where he had an unsustainably high TD%.